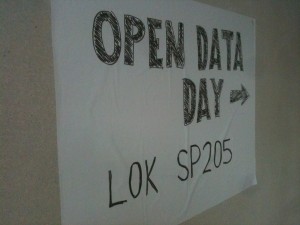 Den 21. februar 2015 er det den Internationale Open Data Day og i den forbindelse afholdes der et arrangement i København fra kl. 14:00 til 17:00.
Vi mødes her:
MellemRummet, Ravnsborggade 11, 2200 København N
Arrangementet har to dele:
Kortlægning af de danske "åben"-miljøer. Vi samarbejder om at kortlægge aktører og organisationer, der arbejder med forskellige aspekter af "åbenhed" i Danmark. Kortlægningen kan muligvis skabe grobund for øget samarbejde på tværs af de gode kræfter, der allerede findes og hjælpe os med at få et overblik.

Dataworkshop med crowdsourcet folketingskandidat-data som omdrejningspunkt. Flere frivillige har lagt kræfter i at samle en oversigt over samtlige opstillede kandidater til det kommende folketingsvalg. Vi vil arbejde med udgangspunkt i disse data med deskriptive analyser, visualiseringer og hvad vi ellers har af gode ideer.
Vi tilbyder desuden interesserede en kort introduktion til dataanalyse for begyndere og let øvede.
Eksterne henvisninger
 Update: Ekstra-event / opvarmning
Kom med opvarmning til Open Data Day med en omgang high impact datamotion
Det danske Open Street Map community (i form af Søren Johannessen) inviterer som en optakt alle interesserede på data-motions-tur rundt i området, hvor vi vil fotografere til Mapillary projektet. Mapillary kan kort siges at være et gør-det-selv lignende street view.
Vi mødes kl. 11:30 ved Blegdamsvej/Tagensvej krydset (ved Panum Instituttet). Efter en lille introduktion bliver I/du sendt ud på en fotomission i området. Du skal medbringe en smartphone, der har GPS og samtidigt skal du have downloadet Mapillary appen (app findes til Andriod, iPhone og Windows), og måske også lige tjekke den app ud med, hvordan den virker. Endelig husk varmt tøj, godt fodtøj og din mobil oplader.
Vi mødes igen på MellemRummet i Ravnsborggade 11, kl. 13:15, hvor der vil være gratis internet adgang, så vi kan få uploadet vores billeder (derfor du skulle medbringe oplader). Hvis du ønsker at deltage, så skriv en kommentar her eller ping mig på Twitter@neogeografen, så jeg har overblik over hvor mange der kommer og samt lave fordeling af områder til deltagerne.
Såfremt du ikke har mulighed for at deltage i ovenstående event inde i København, så kan du selv på lørdag tage ud i dit eget nærområde eller hvad med at invitere et par venner med ud og tage billeder?
Læs mere om arrangementet her:
http://www.microformats.dk/2015/02/16/opvarmning-til-open-data-day-med-en-omgang-high-impack-datamotion/