På lørdag (d. 22/2) fejres åben data dag med hackathons og data-arrangementer i hele verden. I København er der planlagt fire spændende workshops. Alle er velkomne til at deltage, lære mere om åben data, anvende konkrete åbne data, diskutere og møde andre med interesse i åbne data. OKFN-DK står sammen med Wikimedia Danmark for en data sprint omhandlende klimadata.
Indlægget herunder er skrevet af Lenka Hudakova.
Join us for Open Data Day in Copenhagen!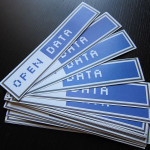 On Saturday February 22nd open data is celebrated with events worldwide. In Copenhagen four workshops will take place at CBS. Everyone is welcomed to join to learn about open data, discuss its utilization options, take part in the event's activities and meet with other like-minded people.
In a nutshell, open data is data freely available to everyone to use, reuse and redistribute without restrictions. For instance, with open government data, it is possible to leverage applications and services for public or private sector. Open government data can also account for the transparency and accountability of public spending. The open data movement views open data as enabler of socio-economic development (health care, education, economic productivity, etc.) through understanding of important issues and thus leading to better decision-making.
Copenhagen is one among many cities that participate in the global event. This year's Copenhagen Open Data Day will comprise of following 4 activities:
Data sprint with Open Knowledge Foundation Denmark and Wikimedia Denmark
For this workshop, we chose interesting environmental/climate open government data to work with. We will dig into the datasets, analyze them, look for stories and do data visualizations. In addition, we are hoping to have a couple of environmental NGO representatives to drop by as guests and share their insights from this topic area. Here are some of the interesting datasets that we're going to look into: Danish data on CO2 emmissions from Region Syddanmark, International climate data from the World Bank, official Danish energy data from Danish Energy Agency. Bring your own ideas for analysis and visualizations or get inspired by the participants at the workshop. During the sprint we are arranging to have a hangout with a foreign open data day event.
Hackaton with Gatesense
At the Hackaton we will play with real-time open data samples from Municipality of Copenhagen, Aarhus and international sources to create innovative ideas, demos and solutions to optimize our resources: Water, Energy, Waste and Transportation. Please note that this workshop will kick-off early (Friday February 21 at CBS, Dalgas Have ground floor, DSO089) and requires separate registration.
Remixing SMK with BYOB (Bring Your Own Beamer)
Bring Your Own Beamer is a fun way to turn still images into videos. Under the guidance of Jacob Sikker Remin and inputs from Marieke Verbesiem on stop motion technique, we will use works from SMK's collection released under open licensing. This activity is collaboration with the ongoing FROST festival, and the created remixes are meant to be exhibited as a part of the festival's social event (at Tøjhusemuseet, 19-23.00). Please note that Jacob will welcome to hear from you in case you would like to participate (Jacob@sciencefiction.dk, sub. BYOB).
Hackathon on the city's challenges with KK Data Portal and Aarhus Open Data
We will delve into societal challenges related to climate change, mobility, and population growth using real-time open data from Copenhagen and Aarhus municipalities together with other international sources. Although the solutions might not come instantly, hackaton is a great opportunity to demonstrate the value of working with open data and the value of cooperating across the city's many stakeholders.
For anyone interested in taking part, please find more information at dk.opendataday.org and Facebook. And remember, regardless your experience with open data, everyone with open mind and interest in this cause is warmly welcomed to participate, learn, network, and most of all, have fun with us. The event venue is CBS (Solbjerg Plads 3, Frederiksberg), where the main event, hackaton and workshop take place from 10:00 until 16:00. The participation is free of charge, because we believe in open knowledge sharing and empowered citizenship. We look forward to see you at Copenhagen Open Data Day 2014!